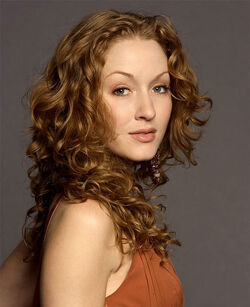 Jennifer Ferrin plays Dana Faraday on The Cape.
Ferrin played Esther, the younger Vanessa Redgrave character in The Locket, a Hallmark Hall of Fame film, and guest starred on the 2002 season finale of Dawson's Creek.
Ferrin's most notable role to date is that of Jennifer Munson Kasnoff Donovan on the daytime soap opera As the World Turns. Ferrin played Jennifer from 2003 to 2006. In 2006, Ferrin landed a recurring role on the primetime show 3 LBS.
In the theatre, Ferrin was one of the four actors in the US premiere productions of Patrick Barlow's adaptation of The 39 Steps, in Boston (2007) and New York City (2008).
Ferrin also played Detective Sam Tyler's mother in the US version of Life On Mars.
Filmography
Edit
"The Cape" as Dana Faraday (2 episodes, 2011)
"Nurse Jackie" as Georgia (1 episode, 2010)
"White Collar" as Melissa Cartwright (1 episode, 2010)
"Law & Order: Special Victims Unit" as Rena West (1 episode, 2009)
"Fringe" as Nancy Lewis / ... (1 episode, 2009)
"Life on Mars" as Rose Tyler (5 episodes, 2008-2009)
Bunker Hill (2009) (TV) as ADA Chase Cabot
"The Kill Point" as Chloe (8 episodes, 2007)
"3 lbs." as Penny Marx (2 episodes, 2006)
"Rescue Me" as Sara (2 episodes, 2006)
"As the World Turns" as Jennifer Munson
The Locket (2002) (TV) as Young Esther
"Dawson's Creek" as Nervous Girl (1 episode, 2002)