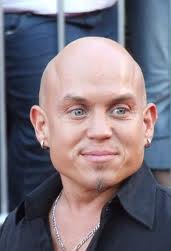 Martin Klebba plays the feisty circus gang member Rollo on The Cape.
Biography
Edit
Klebba is an American actor and stunt performer who has a rare form of dwarfism called acromicric dysplasia; he reportedly is the only known person with this type of dwarfism. He stands at 4'1".
Klebba made his acting debut at Radio City Music Hall, and performed there and at Madison Square Garden for 10 years. He performed in the "Christmas Spectacular" and moved on to a Broadway tour of "The Wizard of Oz," starring Mickey Rooney, Eartha Kitt and Roseanne. Klebba has acted in various productions, most notably in the trilogy "Pirates of the Caribbean," and has also made many appearances on the television series "Scrubs." He has guest starred in Disney's "Pair of Kings," "CSI: Crime Scene Investigation," "CSI: NY," "Bones," "iCarly," and "Drake and Josh." He starred as Hank Dingo in the Comedy Central made-for-TV movie "Knee High P.I." Additionally, he has appeared in the movie "Cradle 2 the Grave," and in low budget horror/comedy films "Feast 2," and "Feast 3." He has numerous stunt credits as well, including: "Hancock," "Zombieland," "Bedtime Stories," "Evan Almighty," "Meet the Spartans," "Epic Movie," and "Van Helsing." More recently, Klebba was featured on the TLC reality show, "Little People, Big World," with his good friend Matthew Roloff. Currently, he is putting together fundraisers for the charity CoDA, by having his team, "The Statesmen," play basketball against average-size celebs.
Born in Troy, Michigan, Klebba currently resides in Los Angeles and has a son, Alec.